Portland Sexual Abuse Lawyer
Many suspects charged with sexual abuse are innocent, or they've committed an offense substantially less serious than the crime they're accused of committing. If you are convicted of sexual abuse, the ramifications can permanently damage your life. Get immediate legal help if you are charged with sexual abuse; call the law firm of Portland criminal defense attorney David T. McDonald as quickly as possible. He has 25 years of experience defending clients charged with sex crimes, and his record of success speaks for itself.
EXPERIENCED CRIMINAL DEFENSE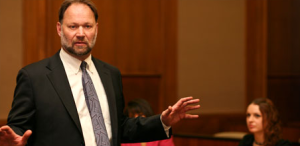 In many cases, a conviction for a sexual abuse crime can mean a lengthy prison term, the loss of your family, financial disaster, and life-long sex offender status. Portland sexual abuse lawyer David McDonald knows from the scores of clients he's represented that accusations of sexual abuse can be false, that prosecutors and police investigators can be overzealous, and that perfectly innocent behavior – especially in today's world – can be quickly and easily misunderstood. He also knows that some people have engaged in the behavior to which they have been accused, wish to seek treatment and help for their addictions and repair broken relationships. No matter your situation, Portland Sex Abuse defense lawyer David T. McDonald needs to know the facts quickly to help you get the best resolution for the crimes for which you have been accused.
If you are accused of a sex crime, politely exercise your right to remain silent, and speak with no one about the case except an experienced Portland sexual abuse lawyer. Portland attorney David McDonald is the lawyer you can trust. He will develop a defense that focuses on the facts rather than emotions; he will show the court what kind of person you really are; and he will fight aggressively for the best possible outcome to your sexual abuse case.
SCHEDULE A CONSULTATION TODAY
Accusations of child sexual abuse are particularly damaging and quite hurtful when they're false. Defending against such a charge requires a tenacious, aggressive defense approach. Portland sexual abuse lawyer David McDonald has considerable experience in such cases. If you face any sexual abuse charges, now or in the future, call his Portland law office immediately.
In Oregon, David McDonald represents clients in Portland and in Washington, Clackamas, and Multnomah counties. In Washington, he represents clients in Clark County and throughout the state's southwest region. He also works with Spanish-speaking investigators and interpreters to assist members of the Hispanic community. To learn more or to arrange an initial telephone consultation, call the law firm of David T. McDonald at 503-226-0188. Evening and weekend appointments are available.