Portland Robbery Defense Attorney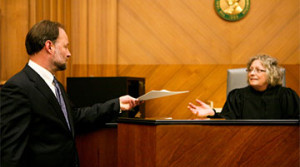 In both Washington and Oregon, the laws regarding robbery can seem complicated and quite confusing, but this much is certain. Robbery is considered a serious, violent criminal offense in both states, and the courts are seldom lenient to anyone convicted of the charge.
If you are charged with robbery, protect yourself; quickly get legal help from an experienced Portland robbery defense attorney. With 25 years of experience, Portland robbery defense attorney David T. McDonald has established a reputation for aggressively defending clients charged with robbery and successfully challenging prosecutors at trial.
ROBBERY CHARGES AND POSSIBLE SENTENCES
In Oregon, depending on the details and evidence of the case, robbery suspects varying degrees of Robbery charges. Robbery in the First Degree and Robbery in the Second Degree are both Measure 11 offenses and carry mandatory minimum sentences. Robbery in the Third Degree is punishable by 5 years in prison and $125,000 in fines. Washington state law recognizes only two degrees of robbery. In Washington, Robbery in the Second Degree is punishable by 10 years in prison and $20,000 in fines. Robbery in the First Degree may be punished by life in prison and fines up to $50,000. While Bank Robbery charges in the federal District of Oregon are routinely prosecuted in federal court, many bank robberies alleged to be committed in the state of Washington are brought in state court.
AN EFFECTIVE DEFENSE OF YOU AND YOUR RIGHTS
Clearly, if you are charged with robbery in either state, it's imperative to have at your side a skilled Portland robbery defense attorney who can discredit the prosecution's witnesses and evidence or show that your rights have been violated and the evidence against you limited. That Portland robbery defense attorney is David McDonald. He will develop an effective defense that protects your rights and moves your case toward the best possible result. In Oregon, David McDonald represents clients in Portland and in Washington, Clackamas, and Multnomah counties. In Washington, he represents clients in Clark County and throughout the state's southwest region. He also works with Spanish-speaking investigators and interpreters to help clients in the Hispanic community. To learn more or to arrange an initial telephone consultation, call the law firm of David T. McDonald at 503-226-0188 or complete the form on our contact page. Evening and weekend appointments are available.