Portland Physical Child Abuse Lawyer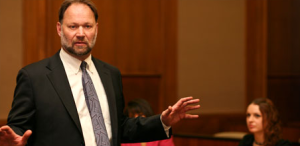 Mandatory reporting laws require many people, and all healthcare providers, to report suspicions of child abuse, allegations of shaken baby syndrome, the neglect or mistreatment of a child, or an assault of a child. These reports can be made anonymously. Along with visible injuries, injuries that include subdural hematoma, rib fractures, bruising, and injuries typically caused by what some in the medical community would term "shaken baby syndrome" are likely to generate child abuse reports. Defending against a child abuse charge takes a Portland physical child abuse lawyer experienced in handling sensitive crimes involving children. With 25 years of experience, Portland physical child abuse lawyer David T. McDonald is the attorney you can trust if you are charged with the physical abuse of a child.
SERIOUS CRIME, SEVERE PENALTIES
Child abuse is a serious offense; the penalties can be severe, and the courts are seldom lenient when children are victims. Portland physical child abuse lawyer David McDonald knows what you face if you've been charged with the criminal mistreatment, neglect, assault, or molestation of a child. If your case involves any element of sexual abuse, assault, or criminal mistreatment, you could face even more severe penalties, and you'll need serious help.
If you're accused of child "neglect" or endangerment, it means you allegedly failed to provide your child's basic needs: food, shelter, clothing, healthcare, and supervision. Child "abuse" can include striking a child, odd or extreme punishment, causing malnutrition or dehydration, or withholding medical care. Even locking your child in his or her room may be considered child abuse.
ENSURING YOUR RIGHTS ARE PROTECTED
If you are charged with the physical abuse of a child, Portland physical child abuse lawyer David McDonald will ensure that your rights are protected. He has the knowledge and expertise to conduct an effective defense against a false allegation of child abuse. By interviewing witnesses and experts, he will bring the facts before the court and separate the emotions in a case from the genuine evidence. If you face any child abuse, neglect, or endangerment accusation, call David McDonald immediately.
In Oregon, David McDonald represents clients in Portland and in Washington, Clackamas, and Multnomah counties. In Washington, he represents clients in Clark County and throughout the state's southwest. He also works with Spanish-speaking investigators and interpreters to assist defendants in the Hispanic community. To schedule an initial consultation, call Portland physical child abuse lawyer David McDonald at 503-226-0188. Evening and weekend appointments are available.