Portland Measure 11 Defense Attorney
In Oregon, Measure 11 crimes are the most serious violent crimes and sex offenses. Measure 11 crimes carry mandatory minimum sentences ranging from almost 6 to 25 years in prison. These crimes include:
Arson, robbery, kidnapping, assault, manslaughter, and murder
Attempted murder and attempted aggravated murder
Compelling prostitution
If you are charged with a Measure 11 crime, answer no questions and speak to no one about your case until you've consulted with an experienced Portland measure 11 defense attorney. Your freedom and future are in serious jeopardy. You'll need legal representation from a Portland measure 11 defense attorney with the skills and experience of Portland attorney David McDonald.
WHAT IS MEASURE 11?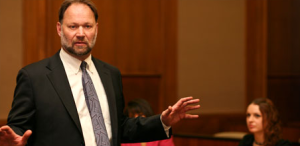 A 1994 ballot referendum called Measure 11 established minimum mandatory sentences for serious felonies after its passage – by a two-thirds majority of Oregon voters – in 1994. In certain cases, including assault, sexual abuse, manslaughter, robbery, and kidnapping cases, judges have some discretion to impose a sentence below the Measure 11 mandatory guidelines. If you have been charged with a Measure 11 crime, do not simply assume that you will be handed the mandatory sentence. When substantial, compelling reasons exist to give a defendant a more lenient and fair non-mandatory sentence, the court is free to do so if certain criteria are established. Portland measure 11 defense attorney David McDonald will find those reasons if they exist and present them to the court.
EXPLORING EVERY AVAILABLE OPTION
Portland measure 11 defense attorney David McDonald is well-respected in the legal community, and he's represented those charged with Measure 11 offenses in Oregon since the referendum was first adopted. David McDonald fights aggressively for your rights, and he will investigate every legal option available to a client charged with a Measure 11 crime. If you're charged with one of these felonies, your best hope – and your only real option – is to obtain legal help from an experienced Portland measure 11 defense attorney. David McDonald is that attorney.
In Oregon, David McDonald represents clients across the state of Oregon on serious Measure 11 offenses including in Portland and in Washington, Clackamas, and Multnomah counties. If you face similar charges in Washington, he represents clients in Clark County and throughout the state's southwest region. He also works with Spanish-speaking investigators and interpreters to assist clients in the Hispanic community. To learn more or to arrange an initial telephone consultation, call the law firm of David T. McDonald at 503-226-0188. Evening and weekend appointments are available.