Portland Manslaughter Attorney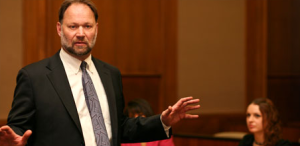 If you have been arrested for manslaughter, you need to seek defense representation from an experienced Portland manslaughter attorney immediately. Criminal manslaughter can be defined in several ways but includes reckless causing the death of another and, even more serious, recklessly causing the death while exhibiting an extreme indifference to the value of human life. If you are charged with manslaughter in Washington or Oregon, answer no questions and speak to no one about your case until you've consulted with an experienced Portland manslaughter attorney. Investigating officers, especially at the scene of a collision or even at yoiur hospital bed will try and get you to make statements about how the collision occured. Your freedom and future are in serious jeopardy. You'll need legal representation from a Portland manslaughter attorney with the skills and experience that Portland attorney David McDonald has. With 25 years of experience representing clients accused of serious felonies, David McDonald has the skills, knowledge, and expertise to represent you effectively and to bring your manslaughter case to the best possible conclusion.
MANSLAUGHTER SENTENCES ARE SEVERE
In Oregon, manslaughter is a Measure 11 crime, which means that it is a violent crime with a mandatory minimum sentence. Oregonians approved mandatory minimum sentences for manslaughter and other crimes when they voted for the Measure 11 referendum in 1994.
TAKE ACTION NOW
Portland manslaughter attorney David T. McDonald believes that every defendant accused of manslaughter deserves an aggressive, effective defense. If you are accused of manslaughter in Oregon or Washington, call the Portland manslaughter attorney David T. McDonald today. He will advocate tirelessly on your behalf and make sure that your side of the story is told. In Oregon, David McDonald represents clients in Portland and in Washington, Clackamas, and Multnomah counties. In Washington, he represents clients in Clark County and throughout the state's southwest region. He also works with Spanish-speaking investigators and interpreters to represent clients in the Hispanic community. To learn more or to arrange an initial telephone consultation, call the law firm of David T. McDonald at 503-226-0188. Evening and weekend appointments are available.