Portland Fraud Attorney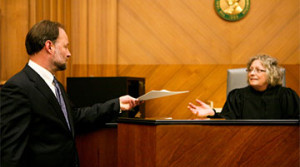 Fraud is theft committed by pretense or deception rather than force or threat. When fraud is committed against a financial institution, or across state lines or national borders, it's a federal crime. Even the attempt to commit fraud can lead to federal fraud charges. Those convicted face stiff penalties; for example, a defendant convicted of defrauding or attempting to defraud a bank or other financial institution may be sentenced to 30 years in prison and a one-million-dollar fine. Clearly, if you're charged with any kind of fraud, you'll need legal assistance from an experienced Portland fraud attorney. Portland fraud attorney David T. McDonald, with 25 years of experience defending clients accused of fraud, is the attorney to call.
PROTECT YOUR CAREER AND YOUR FUTURE
Promptly obtaining an Portland fraud attorney's help is imperative if you (or your business) are charged with fraud or even under investigation. Fraud is a white collar crime that often involves individuals who are professionals: doctors, nurses, attorneys, bankers, realtors, and stockbrokers. Professionals charged with fraud face more than strictly legal penalties; a fraud conviction can lead to your professional license or credentials being revoked or suspended. In fact, finding any kind of work can be difficult after a fraud conviction. Don't find yourself in that scenario. After a conviction for fraud, sentencing depends on factors that include prior convictions (if any), related charges, and the amount of money or assets involved in the fraud.
DON'T WAIT TO GET HELP
Portland fraud attorney David McDonald aggressively defends those accused of fraud. If your rights have been violated during an investigation, arrest, or detainment, he may seek to have your fraud charge dismissed. If you were confused or made an honest mistake with no criminal intent, he will show the court what kind of person you really are. Every case is different, and David McDonald will develop the defense strategy that is right for you. If you face any kind of fraud charge, don't wait to get a skilled, experienced Portland fraud attorney. Call David McDonald at once.
In Oregon, he represents clients in Portland and in Washington, Clackamas, and Multnomah counties. In Washington, he represents clients in Clark County and throughout the state's southwest. He also works with Spanish-speaking investigators and interpreters to assist members of the Hispanic community. To schedule a consultation, call David McDonald today at 503-226-0188. Evening and weekend appointments are available.