Portland Drug Trafficking Lawyer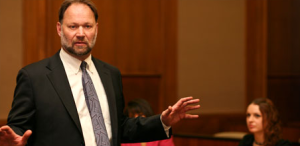 In every state, it is illegal to sell and transport a variety of controlled subtances including methamphetamine ("meth"), cocaine, heroin, a variety of designer or "club" drugs and, to a lesser extent, marijuana. Drug trafficking laws vary among the states and the various punishements are directly related to the type and amount of drugs involved, whether firearms are involved, proximity of the transaction to a school and whether or not the sale was to a minor. While drug trafficking laws are always being amended by lawmakers, Portland drug trafficking lawyer David T. McDonald works hard to remain up-to-date on the latest developments in drug delivery and trafficking laws. With over 25 years of experience representing clients accused of drug charges, he is the Portland drug trafficking lawyer to choose if you find yourself charged with drug trafficking.
25 YEARS OF EXPERIENCE
Drug trafficking charges can be challenged in a number of ways. Portland drug trafficking lawyer David McDonald will first assess the behavior of the police while they investigated your case and obtained evidence against you. He will evaluate possible constitutional, statutory and procedural mistakes the police may have made and file appropriate and comprehensive challenges to the legality of such actions. Portland drug trafficking lawyer David McDonald's considerable experience in drug trafficking cases ensures that every detail of your case will be scrutinized for your benefit. He will protect your legal rights and work diligently to craft and acheive the best resolution for each individual he represents. During his over 25 years as a Portland drug trafficking lawyer, David McDonald has helped scores of clients challenge drug trafficking charges, and his legal challenges to such charges have resulted in dismissals and offers to reduced charges with less severe penalites.
PASSIONATELY COMMITTED TO CLIENTS
A conviction for drug trafficking can have serious consequences including steep fines and incarceration. If you are charged with drug trafficking, now or in the future, protect your rights by choosing a skilled Portland drug trafficking lawyer who is thoroughly experienced in drug trafficking cases and passionately committed to his clients' best interests. In Oregon, David McDonald represents clients in Portland and in Washington, Clackamas, and Multnomah counties. In Washington, he represents clients in Clark County and throughout the state's southwest region. He also works with Spanish-speaking investigators and interpreters to assist clients in the Hispanic community. To learn more or to arrange an initial telephone consultation, call the law firm of David T. McDonald at 503-226-0188. Evening and weekend appointments are available.