Portland Drug Conspiracy Attorney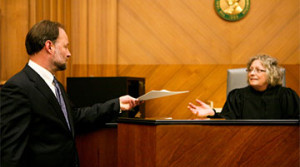 You can be charged with "Drug Conspiracy" without ever coming in contact with drugs or profiting from their sale. Anyone who makes an "agreement" with another to facilitate the illegal sale or distribution of controlled drugs and engages in an "overt act"that could further the agreement may be charged with drug conspiracy. Simply acting as a knowing go-between – making phone calls, arranging buys – may enough to be convicted. You can be charged with conspiracy in some cases even when you have never met more than one person alleged to be involved with the "drug conspiracy". If you or someone you love is charged with drug conspiracy, get the legal help you need right away; call the Portland drug conspiracy attorney David T. McDonald today. For over 25 years, Portland drug conspiracy attorney David McDonald has skillfully represented clients accused of drug conspiracy and almost every type of drug charge. He has spoken to the statewide criminal defense community on several occasions regarding search and seizure and drug trafficking crimes. He will honestly explain to you your legal situation and your best options.
DON'T RISK YOUR FUTURE
Sentences for convictions for "drug conspiracy" can range from lenient to severe depending on several factors including prior record (if any); the amount, value, and type of drugs involved and, in some cases, the accused person's willingness to cooperate with prosecutors against other potential suspects. Although no one sets out to be a cooperating witness, the law requires defense attorneys to explore cooperation options and advise those they represent on the benefits and risks of being a cooperating witness. Allegations of a "Drug conspiracy" include a broad breadth of conduct and can include everything from picking up some pot for a friend to engineering a million-dollar international narcotics transaction. But in all drug conspiracy case, stiff fines and incarceration are possible. Even when your sentence is completed, a "drug conspiracy" conviction may limit your ability to find employment for years to come. If you're accused of "drug conspiracy" or being investigated, now or in the future, call the Portland drug conspiracy attorney David McDonald immediately.
THE BEST DEFENSE STRATEGY
It's possible that you were an innocent pawn of others; it's also possible that investigators violated your rights. Portland drug conspiracy attorney David McDonald will find and pursue the defense strategy that is desinged for your particular legal situation. If you face any drug charge, the importance of hiring an experienced Portland drug conspiracy attorney cannot be overstated. In Oregon, David McDonald represents clients in Portland and in Washington, Clackamas, and Multnomah counties. In Washington, he represents clients in Clark County and throughout the state's southwest region. He also works with Spanish-speaking investigators and interpreters to represent members of the Hispanic community. To learn more or to arrange an initial consultation, call the law firm of David T. McDonald at 503-226-0188. Evening and weekend appointments are available.