Portland Criminal Defense Attorney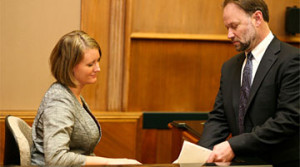 If you are charged with a violent crime, you may feel hopeless. Upon conviction, jail or prison is likely. Friends and even family members may abandon you. Where do you turn? Portland criminal defense attorney David T. McDonald understands. For more than a quarter-century, he has defended clients from every walk of life. If you're accused of a violent crime, Portland criminal defense attorney David McDonald will answer your questions, address your concerns, and develop an aggressive, effective defense strategy on your behalf.
VIOLENT CRIMES MEAN SERIOUS CONSEQUENCES
Felonies are categorized into several "classes," and repeat offenders are typically treated more severely than first-time offenders. Depending on the particular circumstances of your felony case, you could be punished with fines, imprisonment, or both. Violent felonies include assault, homicide, burglary, robbery, kidnapping, child abuse, and many sex crimes including rape and sexual assault. Also, the use of a weapon in any crime increases its seriousness and increases the likelihood of jail or prison. In Washington, the use of a deadly or dangerous weapon in a crime can result additional time behind bars. In the federal system, the use of a firearm in a drug trafficking or violent crime can result in charges that, upon conviction, require a mandatory five-year minimum in federal custody.
WORKING TIRELESSLY FOR YOU
The first move of any Portland criminal defense attorney is to try and get a charge dismissed based on a lack of evidence or evidence obtained illegally. Such cases are rare, but many charges can be reduced to a lesser felony or misdemeanor. Portland criminal defense attorney David McDonald will work for a dismissal or a reduction of your felony charge, but he also stands ready to present your case to a judge or jury. He identifies the strengths of your case and the flaws in the prosecutor's, and he exploits those strengths and weaknesses to reach the best possible resolution to your felony case.
If you're charged with any violent crime, you need an experienced Portland criminal defense attorney who will work tirelessly for you. In Oregon, David McDonald represents clients in Portland and in Washington, Clackamas, and Multnomah counties. In Washington, he represents clients in Clark County and throughout southwest Washington state. He also works with Spanish-speaking investigators and interpreters to assist clients in the Hispanic community. To learn more or to schedule a consultation, call David McDonald at 503-226-0188 or complete the form on our contact page. Evening and weekend appointments are available.