Portland Child Pornography Attorney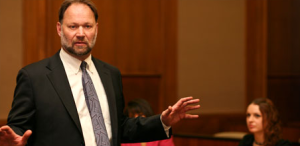 Our society deems itself as the protectors of the vunerable and children are considered the most vunerable because they cannot defend themselves. Our justice system views any crime alleged against a child to be heinous. One would be hard pressed to find a person who, when asked, would not consider a person who possesses child pornograpy to be a "sick","twisted" and horrific person. Fortunately, those initial perceptions are completely wrong. Many individuals who possess or view child pornography have never been sexually inappropriate with any person, much less a child, and research and experience show that they are extremely treatable in the community and pose little or no threat of being a repeat offender if given the correct treatment. However because most citizens view these crimes as so horrific, police officers and prosecutors sometimes become overzealous and seek long and unnecessary sentences as punishment.
Portland child pornography attorney David T. McDonald aggressively defends the rights of those accused of child pornography in Washington and Oregon. Throughout his 25 years of legal experience, Portland child pornography attorney David McDonald has established a reputation and a record for excellence that few can match.
ANYONE CAN BE ACCUSED
Today accusations of child pornography come mostly from law enforcement agents using special software and programs to track individuals downloading habits on peer to peer networks. However, police investigations have shown that many files downloaded from these peer to peer networks may have file names that are totally unrelated to child pornography. In addition, computer can be tampered with physically, individuals can use your computer as a host for their images through wireless networks and malward can infect your computer and cause downloading. Someone could access your computer and download images for viewing without your knowledge or by use of your IP address. Moreover, anyone who's active online has "clicked a wrong button" at some point. At the same time, multiple-agency task forces and thousands of federal, state, and local law enforcement agencies actively pursue, identify, and prosecute Internet crimes against children. Portland child pornography attorney David McDonald has handled these cases and knows how to show that a person may have unknowingly downloaded illegal images. He can develop an effective strategy – and consult with computer experts, if necessary – to defend you against a computer-related child pornography charge.
YOUR RIGHTS MUST BE HONORED
Of course, not all child pornography is on computers. It is also a federal crime to knowingly create, receive, reproduce, distribute, or transport, physically or by wire, any depiction of a minor engaging in sexually explicit behavior. While police agencies have the authority to launch child pornography investigations, basic civil rights still must be honored. Penalties for a conviction are severe, and it is difficult to have judges show leniency in these cases. But when the police investigate child pornography, their own zealousness often discredits their case. Sometimes a charge can be reduced or dismissed simply because the evidence was illegally obtained. Portland child pornography attorney David McDonald carefully assesses each case to develop the most effective defense for his clients.
In Oregon, David McDonald represents clients in Portland and in Washington, Clackamas, and Multnomah counties. In Washington, he represents clients in Clark County and across the state's southwest region. To assist members of the Hispanic community, he also works with Spanish-speaking investigators and interpreters. To arrange an initial consultation by phone, call Portland child pornography attorney David McDonald at 503-226-0188. Evening and weekend appointments are available.